Still, searching for the right remote freelance developer job? Check out our top places to land a gig in 2022!
It's no secret that the freelance developer market is booming. In fact, according to a study done by UpWork and Freelancers Union, more than 57 million Americans (36% of the workforce) are freelancing. And this number will only continue to grow in the years to come.
The reasons are apparent: freelancing offers much flexibility and freedom that traditional jobs don't. You can work from anywhere in the world, set your hours, and (perhaps most importantly) get paid what you're worth.
But with this increased demand comes increased competition. So, what's a developer to do?
This blog post will highlight ten insanely awesome places to find freelance developer jobs in 2022. These include online communities, job boards, and companies looking for remote coders.
Top 10 Sites for Remote Freelance Coding Jobs in 2022
If you're looking for top-notch remote software development jobs, Topal is the place for you. Topal is an online community of pre-screened, top-rated freelancers from all over the world. Their network includes some of the world's leading data scientists, software engineers, and designers.
With a focus on quality over quantity, Toptal has a rigorous screening process that includes skills testing and personal interviews. Thus, the platform only accepts the top three percent of applicants to their site. This ensures that their freelancers are of the highest caliber.
In addition, Toptal also offers some resources to help you succeed as a freelancer. Their blog contains helpful articles on pricing your services and building a solid portfolio.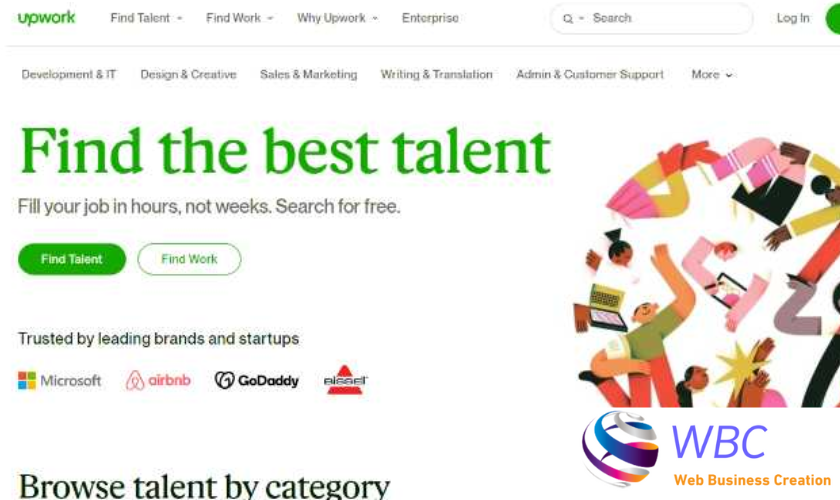 With over 5 million clients and 3 million jobs posted annually, Upwork is one of the most popular places to find work as a freelancer. It's also one of the best-known sites for finding remote software development jobs in various categories. You can find work here in areas like web development, mobile app development, and more.
There are two ways to use Upwork as a freelancer. You can either browse through the job postings and apply for jobs that interest you or wait for clients to contact you directly. Either way, you'll need a strong profile and showcase your skills to land work.
While Upwork does have a reputation for being a bit more competitive than other freelancing sites, it also offers the opportunity to earn more money. The average hourly rate on Upwork is $21, but the top earners make over $100 per hour.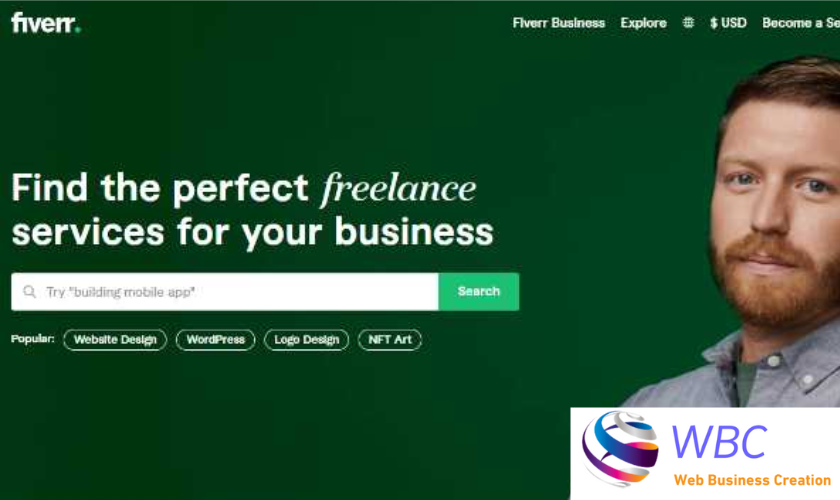 If you're looking for shorter-term, one-off projects, Fiverr is a great option. As the name implies, most jobs on Fiverr start at just $5, but you can easily earn more depending on the scope of work and your skills.
On Fiverr, you can find freelance developer jobs in various categories, including web development, software development, and mobile app development. You can also search jobs by keyword, so if you have specific skills or experience in a particular area, you can easily find work that matches your expertise.
To get started, sign up for a free account and browse the available gigs. When you find your interest, send a proposal to the client outlining your skills and experience.
If you're starting, Fiverr can be a great way to build up your portfolio and get some experience under your belt. Once you've established yourself on the site, you can start charging more for your services.
If you're a developer, then you're probably already familiar with GitHub. For those who aren't, GitHub is a code hosting platform for version control and collaboration.
It's a great place to find work as a freelancer because it allows you to showcase your skills and get exposure to a large community of developers.
GitHub has a dedicated jobs board where companies and individuals can post openings for freelance developers. You can search for jobs using the "Jobs" tab on the site or browse through repositories and look for projects needing help.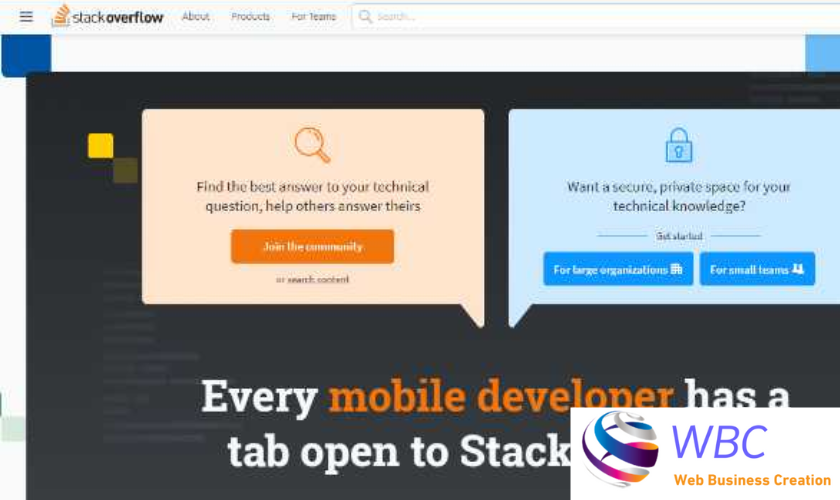 StackOverflow is one of the most popular programming communities on the internet. The site has a dedicated jobs board where companies post programming-related positions.
The nice thing about StackOverflow Jobs is that it's explicitly geared towards developers. So you can be sure that the jobs you're seeing are relevant to your skill set.
StackOverflow Jobs also has a feature called "Stack Overflow Talent." This service helps startups find the right developer for their needs, and developers find the right job for their skills.
If you sign up for Stack Overflow Talent, you can create a profile highlighting your skills and experience. Companies can then search for developers with the specific skills they need.
Hacker News is a popular website for developers. It's a great place to learn about new programming languages, learn tips and tricks, and stay up-to-date on the latest industry news.
And it happens to be an excellent place to find remote freelance developer jobs.
There are two ways to find jobs on Hacker News. The first is to visit the website and search for "remote" jobs. This will bring up a list of all the latest remote job postings.
PeoplePerHour is a freelancing platform that clients businesses with freelance professionals. Companies post their project requirements on the site, and then freelancers can submit proposals to work on the project.
If you're a developer looking for remote work, PeoplePerHour is a great place to find gigs. You can search projects by keyword and then filter the results by location (including "remote").
You can also create a strong profile and portfolio on PeoplePerHour to increase your chances of being hired for future projects.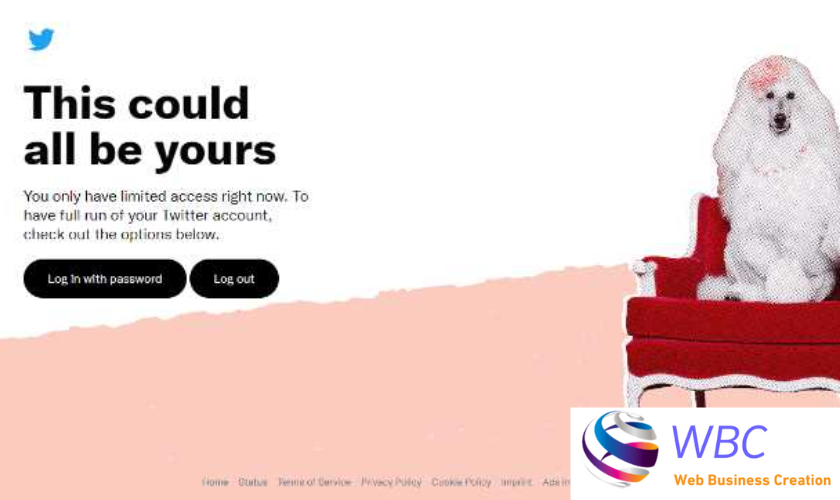 The bird app that brought us avocados and viral videos is also a fantastic place to find remote freelance developer jobs. Why? Because most tech startups and companies use Twitter as their central platform to advertise open positions.
To find out about these opportunities, simply search on Twitter for "freelance developer jobs" or "remote developer jobs." Don't forget to include #remote in your searches, so you only see tweets about remote jobs. You can follow companies you're interested in and keep an eye on their job postings.
But beware: since Twitter is a public platform, scammers also use it to post fake job ads. So ensure to research before applying for any positions you find on Twitter.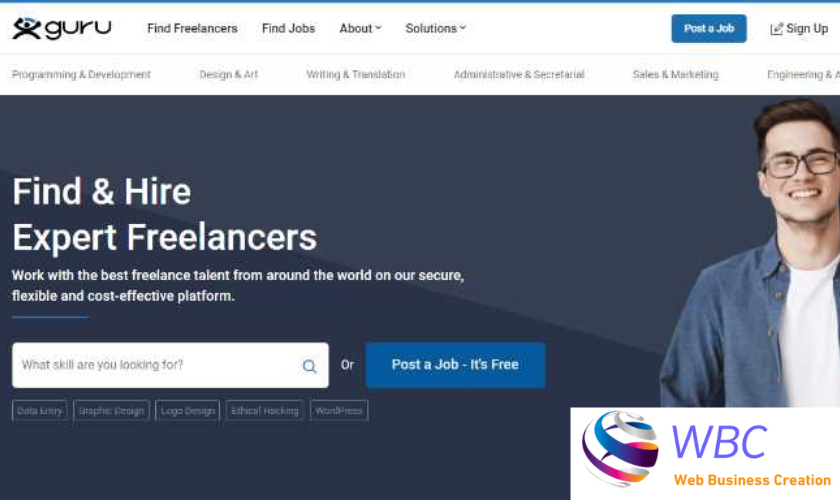 Guru.com is one of the top places for freelance developers. With over three million members and two million projects posted, there is a lot of work to be found on Guru.
The average hourly rate for a Guru freelancer is $21/hour, but rates can vary depending on the project and skillset required.
To get started, register on account and start browsing through the available jobs. When you find a gig of interest, simply submit a proposal and wait for the client to respond.
Guru also offers escrow services to protect both freelancers and clients, so you can be sure you will get paid for your work.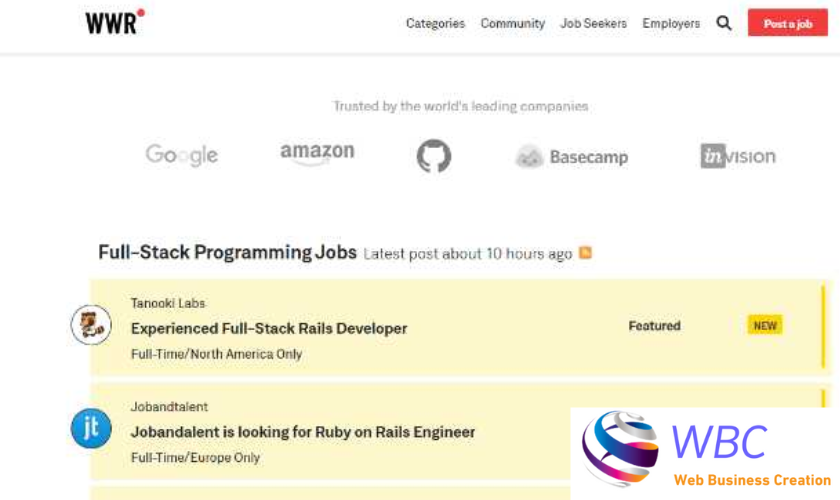 WeWorkRemotely is a job board specifically for remote workers in tech.
While the majority of jobs posted on the site are for freelance web developers, there are also many other positions available, such as customer support, project management, and sales.
The average salary for a remote worker on WeWorkRemotely is $75,000 per year.
To find a job on WeWorkRemotely, register on the site, browse through the available positions, and apply for the ones you are interested in.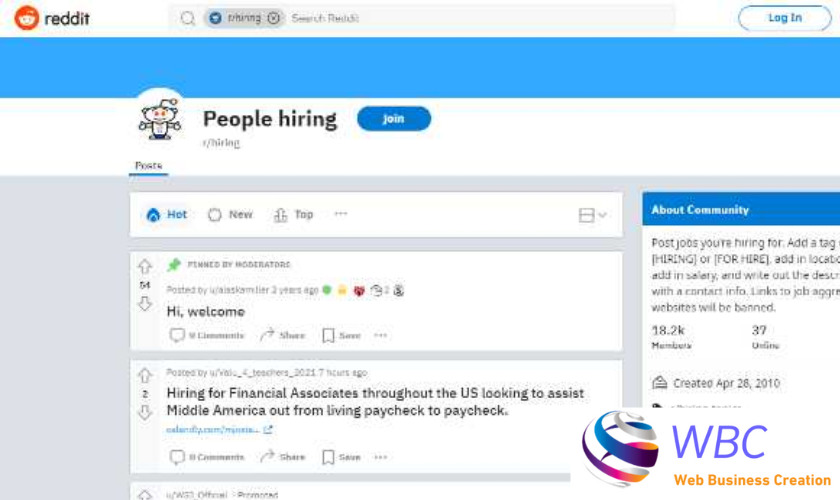 Yes, that Reddit. The self-proclaimed front page of the internet is a great place to find programming jobs, no matter your skill level. There are two primary subreddits you should be aware of when searching for remote developer jobs on Reddit.
The first is /r/forhire, which, as the name suggests, is a subreddit specifically for people looking to hire developers. Here, you can find both one-off gigs and long-term positions, but most of the postings seem to be for short-term projects.
The second subreddit you should check out is /r/workonline. This subreddit is specifically for finding online work, and many postings are for developers. There are also other postings for customer service, telemarketing, and data entry.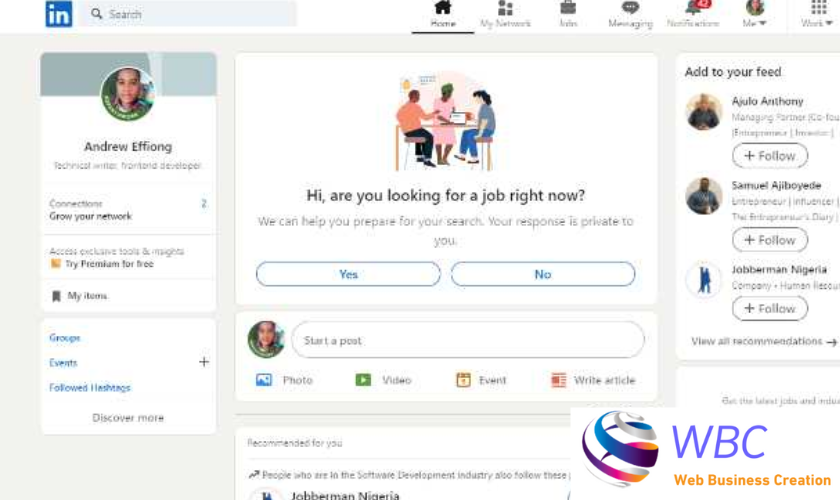 As a leading platform for connecting professionals, it shouldn't come as no surprise that LinkedIn would be a great place to find high-paying remote freelance developer jobs. While most of the platform is geared towards full-time positions, there are a number of ways to use LinkedIn to find contract and freelance work.
To start, head to the Jobs tab and select "Contract" under Job Type. You can refine your search by location, industry, and other criteria.
Once you find a few promising leads, reach out to the poster directly via LinkedIn message or InMail (LinkedIn's paid messaging service). You can also use the platform to connect with recruiters who specialize in finding contract and freelance work.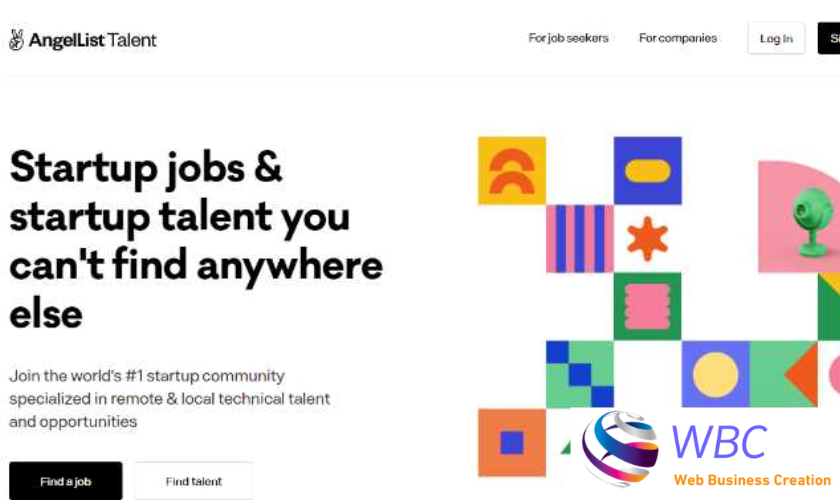 AngelList is a website that helps connect startups with potential job seekers. It's an excellent resource for finding contract and freelance work in the tech industry and full-time jobs at startups.
The site includes a directory of startups, which you can browse by location, industry, or funding stage. You can also search for specific keywords to find companies that might be a good match for your skills.
If you find a company you're interested in, you can view their profile to learn more about their mission, team, and open positions. Many startups also include a link to their website so that you can check out their product or service.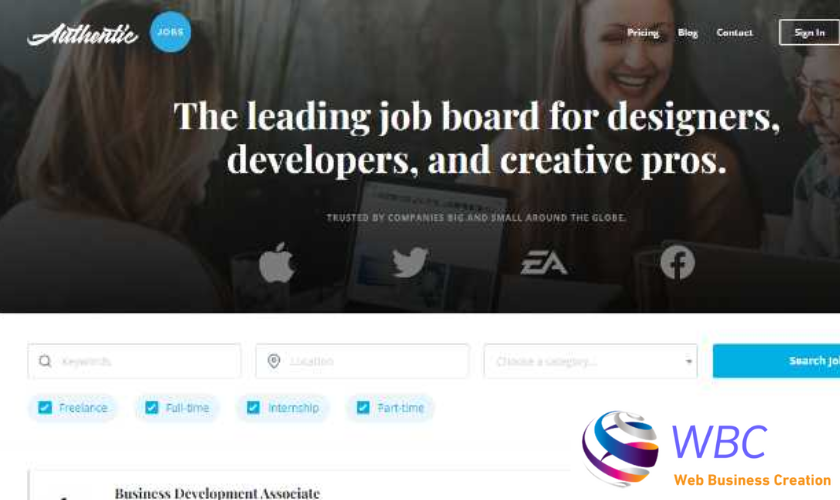 Authentic Jobs is a job board for designers, developers, and creative professionals. The site curates high-quality jobs from some of the best companies in the tech industry. When you visit Authentic Jobs, you can browse open positions by category, location, or keyword. You can also set up job alerts to be notified when new positions are posted.
If you're interested in a position, you can click "Apply Now" to be taken to the company's website. From there, you can submit your application directly through their site.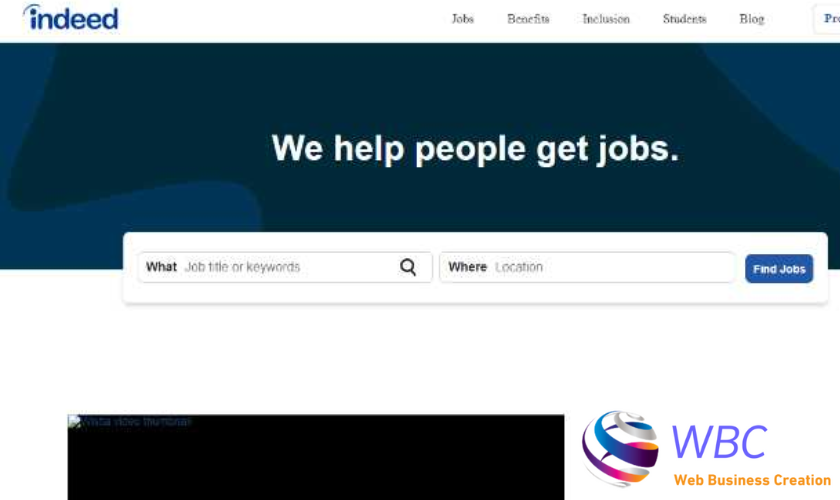 Indeed.com is a website that allows job seekers to search for open positions and apply for jobs online. The site has a massive database of jobs from all over the world that are updated daily.
Job seekers can create a profile and upload their resumes, making it easy for employers to find qualified candidates. You can search for positions by keyword, location, or company with access to tons of filters you can use to find exactly the kind of job you're looking for.
When you find a position you're interested in, you can read more about the role and the company. If you're ready to apply, you can submit your application directly through the Indeed website.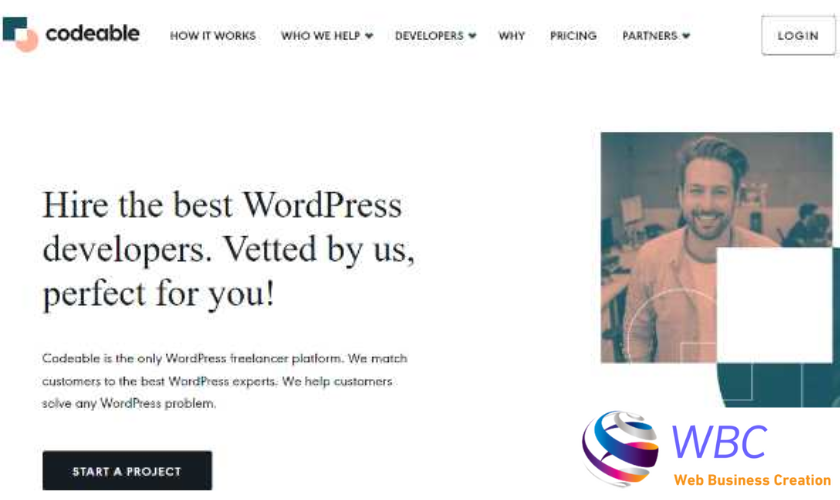 If you're more focused on wordpress development, Codeable is a great option. It's a vetted network of high-quality WordPress developers from all over the world.
Businesses post their project on the site, and developers from Codeable can apply to work on the projects.
If you're a developer, you can browse Codeable's job board to find remote gigs that fit your skill set. Once you find a project you want to work on, you can submit a proposal to the business. Once your proposal is accepted, you'll work with the business to complete the project. Once the project is completed, you'll get paid through Codeable.
Freelancer.com is the world's largest freelancing website, with over 18 million users from more than 247 countries.
Founded in 2009, Freelancer.com has helped revolutionize how businesses connect with talent. With a simple and user-friendly interface, the site makes it easy for clients to post projects and receive proposals from qualified freelancers. And because freelancers can work from anywhere in the world, companies can tap into a global pool of talent.
Turing is a remote job board that connects software developers with firms in the US. They are a relatively new company, but they have already made a big impact in the remote job market.
Turing has been featured in numerous articles and has been ranked as America's best startup employers by Forbes in 2021.
The company offers remote jobs in various programming languages, including Java, Python, and Ruby. Turing also provides a platform for developers to share their work and receive feedback from other developers. In addition, the company offers a variety of resources for job seekers, including resume tips and interview prep advice. Turing is an excellent resource for freelance software developers looking for remote jobs in the US.
Gun.io is a marketplace for high-quality software developers, designers, and writers. The company was founded in 2012 by remote work advocate Teja Yenamandra, and it has since become one of the leading platforms for remote software development jobs.
The company is based in the United States but provides services to businesses of all sizes in over 50 countries. In addition to remote jobs, Gun.io offers a range of other services such as consulting, training, and project management.
Codementor is a freelancing platform that focuses specifically on programming and development projects. If you're a coder or developer, this is a great site to check out.
One thing that sets Codementor apart from other freelancing sites is its mentor program. This program pairs experienced developers with coders looking to learn and improve their skills.
If you're an experienced software developer, you can earn money by mentoring other coders on the site. And if you're starting out, you can use the mentor program to find an experienced coder to help you with your projects.
Six Things to Keep in Mind When Applying to Remote Coding Jobs
Make sure your portfolio and resume are up-to-date:
This should be a no-brainer, but it's worth mentioning. When applying to remote coding jobs, you will be competing with other developers who might have more experience than you. So, ensuring your portfolio and resume is in tip-top shape is essential.
Don't undersell yourself:
It can be tempting to lowball your rate when applying to remote coding jobs, but resist the urge! If you're worth $50/hour, don't apply for a job that pays $30/hour. Not only will you be underpaid, but it will also reflect poorly on your developer skills.
Do your research:
When applying to remote coding jobs, take the time to research the company and the role. This will help you write a better cover letter and give you a leg up in the interview process.
Be prepared for technical questions:
In addition to the usual behavioral interview questions, you can expect to be asked several technical questions when applying for remote coding jobs. Be prepared to answer questions about your coding experience, favorite languages, and development tools.
Follow up after the interview:
After your interview, don't forget to thank your interviewer for their time and send a follow-up email. This will show that you're interested in the position and eager to hear back about the next steps.
Watch out for scammers:
Unfortunately, there are bunch of scammers out there who prey on unsuspecting job seekers. Be sure to research before accepting any job offer, and never give away personal information or money to someone you don't know. If something feels off, trust your gut and move on.
In Conclusion
The job market is constantly changing, and the freelance coding landscape is no different. With that in mind, it's important to stay on top of the latest trends and know where to look for the best opportunities. If you're a web developer, a software engineer, or a coding enthusiast, consider using one of the above sites to jumpstart your freelance coding career.
Interested in becoming a freelance web designer? Check out our complete guide on how to get started, How to Become a Freelance Web Designer Without a Degree.
FAQs
1. What is a freelance developer?
A freelance developer is a professional who works independently, often remotely, to complete coding projects for clients. They typically have a wide range of skills and experience and can work on short-term or long-term projects as needed
3. How much do freelance coders make?
This varies depending on the coder's project, skillset, and experience. In general, freelance coders can expect to make anywhere from $50-$200+ per hour.