Looking for a content marketing platform to help you take your business to the next level? Here are 20 of the best platforms for content marketing.
As a business owner, you know that content marketing is essential for your success. This is especially true in today's digital age, where everyone is online and consumes content through social media, blogs, and other channels.
A survey conducted by Content Marketing Institute shows that 93% of B-to-B marketers use content marketing and spend an average of 30% of their total marketing budget on it. You can read more about this in Business-to-Business (B2B) Marketers' Confidence in Content Marketing Continues to Grow, Usage Rates Up.
To cut through the noise and reach your target audience, you need to be strategic about your content marketing efforts. And that starts with choosing the right platform to plan, create, and manage your content.
But what platform should you use?
As simple as it sounds, but choosing the right platform for content marketing can be tricky.Every business is unique, with different goals, target audiences, and resources.
So it's important to find a platform that suits your business's needs and can help you achieve your content marketing goals.
When it comes to marketing and promoting your business the internet provides a wealth of opportunities.
There are now more platforms for content marketing than ever before, making it easier for businesses of all sizes to get started with content marketing.
To help you choose the right platform for your business, we've compiled a list of 20 of the best content marketing platforms out there. We've also included a brief description of each platform to help you understand what they offer and how they can benefit your business.
What Is A Content Marketing Platform?
A content marketing platform is a tool or software that helps businesses create, manage, and measure their content marketing efforts.
Content marketing platforms can offer a variety of features, such as content creation tools, editorial calendars, workflow management tools, analytics and reporting capabilities, and integrations with other marketing tools.
Some content marketing platforms are all-in-one solutions that offer everything you need to plan, create, publish, and measure your content marketing. Others specialize in specific aspects of content marketing, such as helping you to create better content or providing tools for managing your content marketing workflow.
Choosing the right content marketing platform is a important decision for any business, as it can have a big impact on your content marketing success. To help you make the best choice for your business, follow along as we explore the 20 best platforms for content marketing in 2022.
Top 20 Platforms for Content Marketing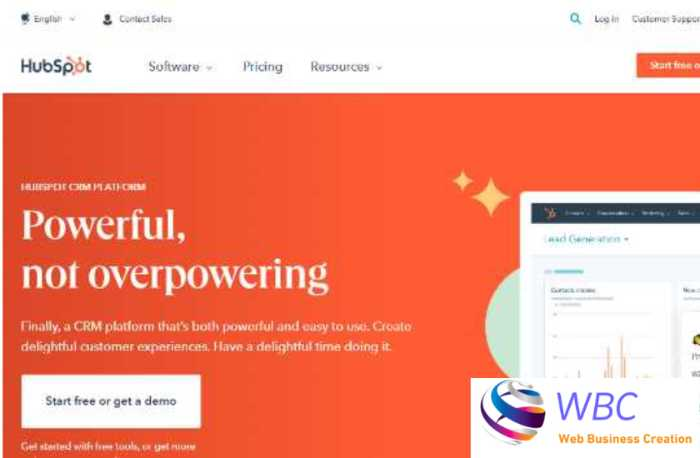 Highlight/Overview
HubSpot is one of the most popular and well-rounded platforms for content marketing. The platform was launched since 2006 and has since helped countless businesses with their content marketing needs.
Today, HubSpot is a comprehensive inbound marketing and sales platform that offers a suite of tools to help businesses grow. And it's not just for small businesses – large companies like Coca-Cola, Trustpilot, and Walmart use HubSpot to power their content marketing efforts.
What sets HubSpot apart is its focus on inbound marketing, a methodology that attracts customers to your business through helpful, relevant content instead of interruption-based advertising.
According to HubSpot Newsroom, as of 2020, HubSpot is used by over 140,000 customers in more than 120 countries.
Top features/Benefits
A/B testing: Test different versions of your website to see what works best for conversion
CMS: HubSpot's Content Management System (CMS) makes it easy to create and publish high-quality content
Lead capture forms: Place forms on your website to collect leads and track conversions SEO: Improve your website's visibility in search results.
Built-in SEO recommendations: Get suggestions for how to optimize your website as you create content.
Integrated analytics: View detailed reports on your website's traffic and performance.
Pricing/plans: HubSpot offers a free version of its platform, as well as paid plans that start at $50/month.
Best for: businesses that want an all-in-one solution for their content marketing efforts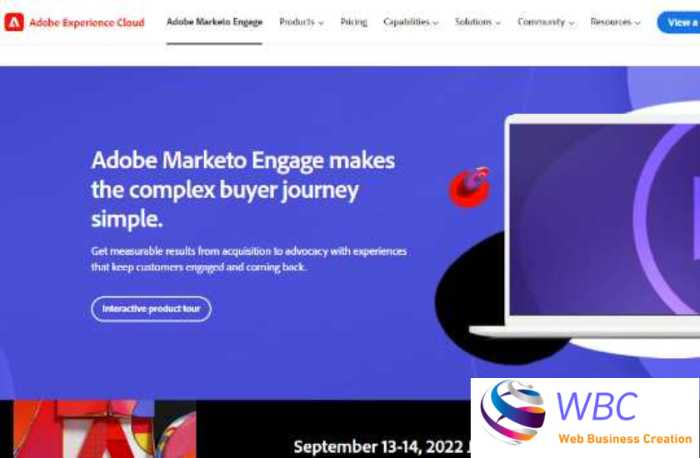 Highlight/Overview
Marketo is a popular marketing automation platform that offers content marketing capabilities as part of its overall suite of tools. As such, it can be a great tool for content marketers looking for a way to streamline and automate their workflow.
To that end, Marketo provides users with various tools to help them create, manage, and publish their content. From email marketing and lead generation to social media management and mobile marketing, Marketo has it all.
Today, as stated by Enlyft, Marketo is used by over 51, 000 brands, including Adobe, Zendesk Inc, and The Brookings Institution.
Top features/Benefits
Content Personalization: The AI-powered content personalization engine allows you to create dynamic, personalized content for each individual visitor.
Cross-channel engagement: Reach your audience across multiple channels, including email, social media, web, and mobile.
Marketing Impact Analytics: Track and measure the ROI of your marketing campaigns and programs.
Plug and Play Integrations: Marketo integrates with over 500 applications and technologies.
Pricing/Plans
Marketo offers three pricing plans: Lite, Standard, and Premium.
Lite: $850/month
Standard: $1700/month
Premium: $2500/month
Best for: Large enterprises with a high volume of content production and a need for complex marketing automation.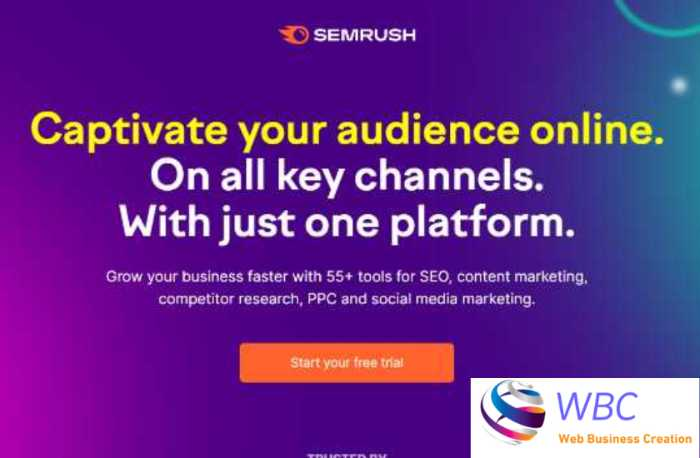 Highlight/Overview
SEMrush is a comprehensive marketing toolkit that helps businesses grow online. The platform provides insights and tools for everything from keyword research to competitive analysis to link building. And it's not just for SEO specialists – SEMrush is also an invaluable tool for PPC specialists, social media marketers, content marketers, and just about anyone else who wants to grow their business online.
Top features/Benefits
Robust keyword research tool: Find new keywords, track your competitors' keywords, and analyze the difficulty of ranking for any keyword.
In-depth competitor analysis: See how your competitors are ranking for keywords, their top pages are, and their traffic source.
Detailed site audits: Improve your website's SEO with comprehensive site audits that identify technical issues and on-page optimization opportunities.
Content marketing insights: Get detailed insights into your content performance, including which pieces are getting the most engagement and social shares.
Backlink analysis: Monitor your backlink profile and get alerted of any new or lost links.
Pricing/Plans
Pro: $119.95/mo
Guru: $229.95/mo
Business: $449.95/mo
Best for
Online marketers, SEO specialists, website owners, and bloggers looking to improve their website's SEO and performance.
Highlight/Overview
If you're a WordPress user, Yoast SEO is definitely a plugin you should have in your toolkit. It's a comprehensive SEO solution that covers everything from keyword research to technical optimization to site auditing. Yoast SEO is also one of the few plugins that's constantly updated to reflect the latest changes in Google's algorithm.
One of the things we like most about Yoast SEO is that it strikes a perfect balance between being comprehensive and easy to use. The plugin has tons of features, but it's still relatively straightforward to use – even for beginners. And if you do get stuck, there's plenty of documentation and support available to help you out.
Main features/Benefits
Comprehensive SEO functionality: Yoast SEO covers all the basics of on-page SEO, from title tags and meta descriptions to robots.txt files and XML sitemaps.
Readability analysis: Analyze the readability of your content and get tips on how to improve it.
User-friendly interface: Navigate the Yoast SEO plugin with ease, thanks to its straightforward and well-organized UI.
Schema controls: Add schema.org structured data markup to your website to help search engines understand your content better.
Social preview: See how your content will look when shared on social media.
Best for: WordPress users who want comprehensive on-page SEO functionality.
Pricing/Plans: Free (core plugin); from $99/year for premium add-ons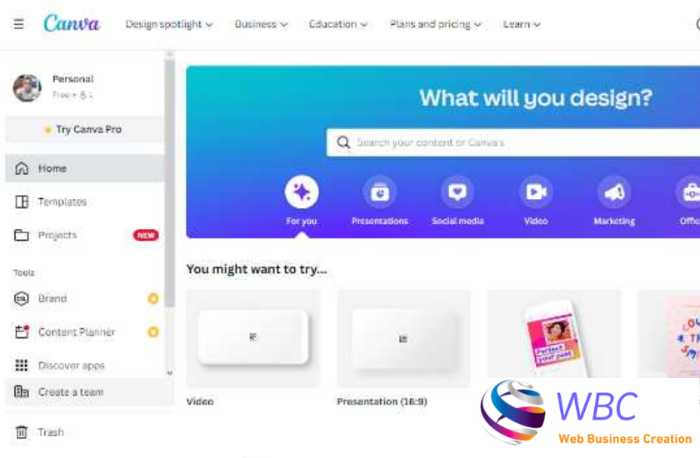 Highlight/Overview
As a content marketer, you know that a good piece of content is never complete without eye-catching visuals. After all, a picture is worth a thousand words. That's why Canva is such an important tool in your content marketing arsenal. Canva is a popular design platform that's beloved by many content marketers. And for good reason – it's simple to use, yet still packed with features.
Canva makes it easy to design stunning visuals without spending hours or money on a professional designer. With it's drag-and-drop interface, you can create visuals for your blog posts, social media posts, and even marketing materials like ebooks and infographics. And the best part? You can also upload your own images, or choose from Canva's library of over 1 million stock photos.
Main features/Benefits:
Simple, drag-and-drop interface: Canva is designed for people with zero design experience. Just choose a template, add your text and images, and you're good to go.
A library of built-in templates: With over 80,000 templates available, you can find a design for any type of content.
Millions of royalty-free images: Canva's library has over a million stock photos and illustrations, so you don't have to worry about sourcing your own images.
Integrated software: Canva integrates with a number of other tools, including Google Drive, Dropbox, and Social Media.
Pricing:
Basic plan: Free
Pro: $12.95/month(up to 5 users)
Enterprise: $30/month per person.
Best for: Small businesses and solopreneurs who need to create visuals without spending a lot of time and money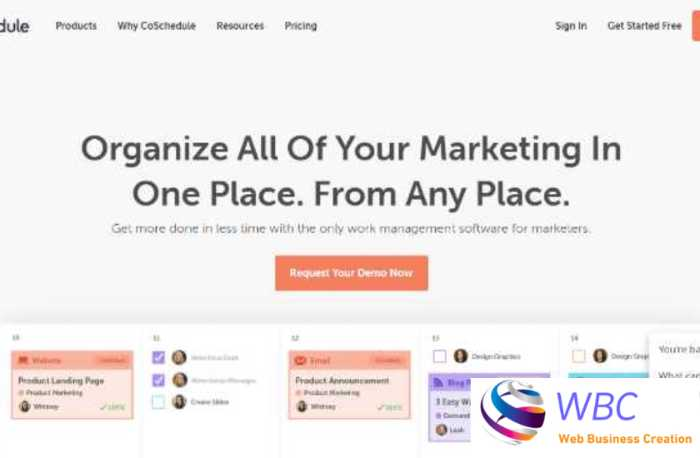 Highlight/Overview:
Successful content marketing requires careful planning and execution. CoSchedule helps you do both, in one neat package. It's an all-in-one content marketing platform that lets you map out your content strategy, plan and publish blog posts and social media updates, optimize your content for search engines, and measure your results.
With CoSchedule, you can see everything you have planned in one place, so you can easily stay on track and hit your deadlines. The platform also makes it easy to repurpose and recycle your content, so you can get the most out of your efforts.
Main features/Benefits.
A drag-and-drop interface: The drag-and-drop interface makes it easy to map out your content strategy and plan your blog posts and social media updates.
Marketing Calender: Helps you map out your entire marketing strategy and track all of your content in one place.
Marketing suite: Gives you everything you need to plan, publish, optimize, and measure your results in one place.
Automated social media poster: The social media poster automates the posting of your content to social media, so you can focus on other aspects of your business.
Headline Studio: Helps you write catchy headlines that drive traffic and engagement.
Pricing:
Limited features: Free
Advance features: $29per user / month
Marketing Suites: Contact for a quote.
Best for: CoSchedule is a great tool for bloggers, solopreneurs, and small businesses who want to streamline their content workflow.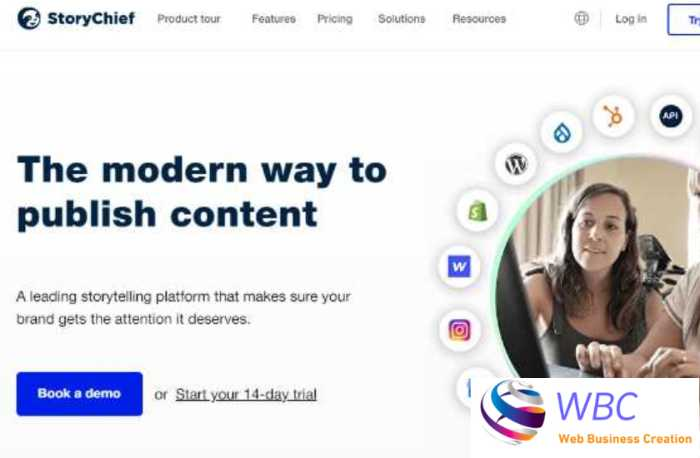 Highlight/Overview.
Let's face it: we all have moments when we wish we could clone ourselves. There's just too much to do and not enough time to get it all done. That's where StoryChief comes in. StoryChief provides a collaborative platform for content creation that allows you to plan, write, edit, and publish your content all in one place – and then share it with the world with just a few clicks.
StoryChief helps you manage your content creation process from start to finish. But it doesn't stop there. Once you've published your content, StoryChief also gives you the ability to track its performance and see how it's resonating with your audience.
Top features:
Content campaigns: plan, write, and publish your content all in one place
Collaborative editing: edit your content with teammates in real-time
Content calender: keep track of your content schedule and make sure you hit your deadlines
Integrations: publish your content on your website, social media, or anywhere else with just a few clicks
Analytics & reporting: Get insights into how your content is performing and make data-driven decisions about your marketing strategy.
SEO copywriting: Optimize your content for Google and make sure your readers can find it.
Multi-channel marketing: Re-purpose your content for different channels and reach more people.
Pricing: team plans start at $100/month, team plus plans start at $180/month, and agency plans start at $350/month.
Best for: small businesses and teams who need a simple way to manage their content creation process.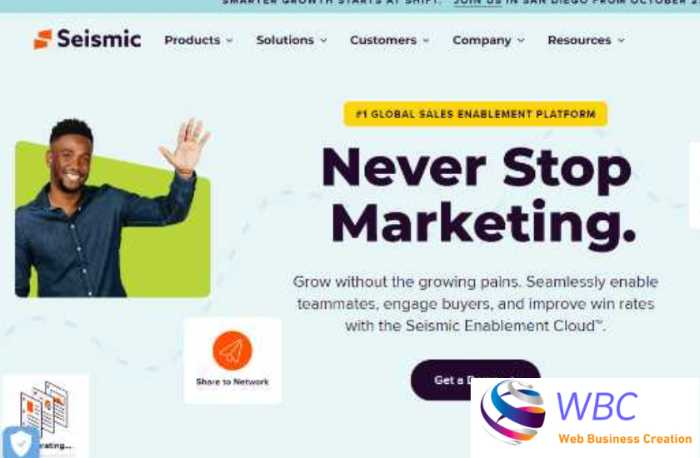 Highlight/Overview.
Seismic is a comprehensive solution for managing all aspects of a content marketing strategy, from initial ideation to final distribution. The platform's robust feature set makes it an ideal tool for brands of all sizes and industries.
Seismic's Enablement Cloud™r is a key feature of the platform, a complete set of tools and services that makes it easy to create, manage, and distribute content across the enterprise.
The Enablement Cloud includes:
A content management system (CMS) for creating and storing content
A learning management system (LMS) for training and coaching
A strategy and planning tool for content marketing initiatives
A content automation tool for buyers engagement
An enabled intelligence tool for understanding content performance.
With the Enablement Cloud, brands can easily create and manage their sales content, while also getting the insights they need to improve their content strategy.
Top features:
Security & Administration: Ensure only the right people have access to your company's content with user permissions and security controls.
Analytics & Insights: See how your content is performing and make data-driven decisions to improve your content strategy.
Open Platform: The Enablement Cloud integrates with your tech stacks and systems, making it easy to get started.
Global Cloud Infrastructure: Supports all devices and languages, so you can reach your global sales teams.
Pricing/Plans: Visit the site to learn more
Highlight/Overview:
Ceros is an interactive content creation platform that empowers marketers and designers to create rich, engaging content experiences without code.
It's provides a simple, drag-and-drop interface for creating highly engaging content experiences without code. With Ceros, you can easily create responsive, interactive, and animated content that will capture your audience's attention.
The Ceros platform is intuitive and easy to use, making it a great option for content marketers and designers who want to create rich, engaging content experiences without code.
Top Features:
Intuitive, drag-and-drop interface: ceros provide a simple, drag-and-drop interface for creating responsive, interactive, and animated content experiences without code. Ceros Studio: With Ceros Studio, you can easily create and manage your content projects in one place.
Responsive design: Ceros automatically optimizes your content for any device or screen size.
Interactive elements: With Ceros, you can easily add interactive elements to your content, including video, audio, forms, and more.
Animation: Ceros provides built-in tools for creating animated content experiences.
Pricing:
Visit the site to learn more.
Best for: Ceros is a great platform for businesses that want to create responsive, interactive, and animated content experiences without code.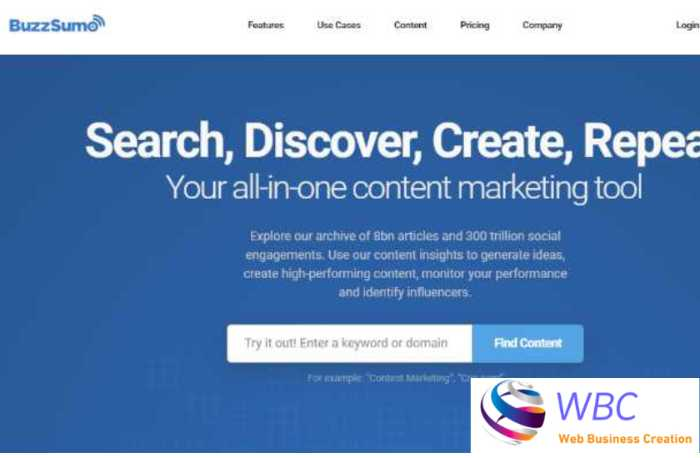 Highlight/Overview:
As a marketer, creating quality content is only half the battle – your content also needs to target the right audience, be published at the right time, and be promoted effectively in order to reach its full potential.
A social media monitoring tools like Buzzsumo, can take a lot of the guesswork out of your content marketing.
It's a web-based application that helps you research and analyze the most popular content on the internet. With its search engine, you can discover the most popular articles, videos, and infographics related to any topic.
Buzzsumo boosts of having over 5 billion documents in its search engine. That's a whole lot of data to sift through! And, with its advanced search filters, you can easily narrow down the results to find the most popular content on any given topic.
Top Features/Benefits
Content discovery: Get ideas for new content by seeing what's already popular on the internet.
Social media analysis: Find out which content is being shared the most on social media, and then amplify its reach.
Content curation: Stay up-to-date on the latest news and trends in your industry by reading the most popular content.
Discover Influencers: Find the people who are sharing your content and connect with them to promote your brand.
Crisis Alerting: Monitor your brand mentions and get real-time alerts about potential risks.
Pricing/plans:
Buzzsumo offers a free trial and three paid plans:
– Pro: $99 per month
– Plus: $179 per month
– Large: $299 per month
Best for: Content marketers who want to produce content that resonates with their audience.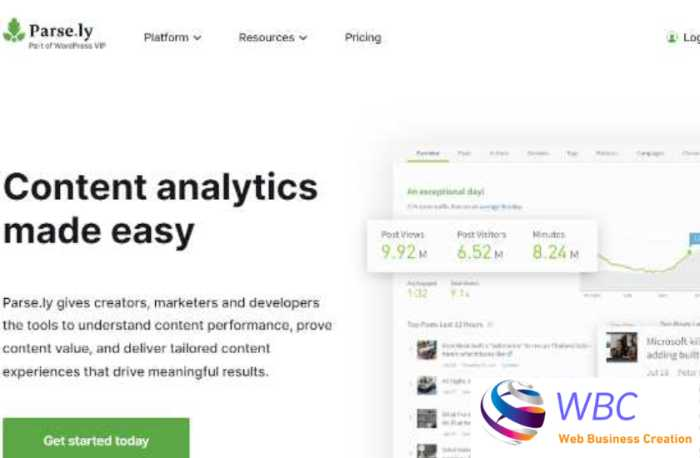 Highlight/Overview.
Parse.ly is a digital analytics company that provides publishers with insights into their audience's engagement with their content. The company was founded in 2009 by Andrew Montalenti and Sachin Kamruzzaman. Parse.ly's technology is used by some of the largest media organizations in the world, including The Washington Post, The Economist, and Mashable.
Parse.ly's platform provides publishers with two main types of insights:
– Engagement data, which helps publishers understand how visitors are interacting with their content, and
– Audience data, which gives publishers insights into who their readers are and where they come from.
In addition to its platform, Parse.ly also offers a number of resources to help publishers better understand and improve their digital strategy, including an academy with free online courses, webinars, and ebooks.
Top features/benefits.
Content conversion engine: Helps you understand how your content is performing and identify areas for improvement
Data pipeline: Enables you to collect, process, and visualize your data in a way that is most meaningful to you
Analytics API: Gives you the flexibility to access your data in the format that best suits your needs
Plugins and integrations: Easily connect Parse.ly to the tools you already use, such as WordPress, Drupal, and Google Tag Manager.
Pricing/plans:
Parse.ly offers a few different options to fit your needs and budget. Visit the pricing page to learn more.
Best for: Publishers who want to better understand their audience and content performance.
12. GrowthHacker Workflow(formally Contentools)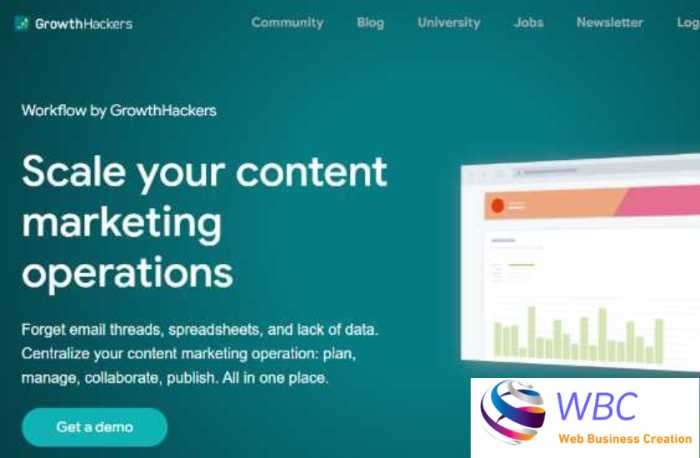 Highlight/Overview:
GrowthHacker is a content marketing platform that enables businesses to manage their content more effectively. It provides users with tools to help them plan, produce, publish, and measure their content.
GrowthHacker Workflow is designed to provide a centralized platform where businesses can manage all aspects of their content marketing. Doing so enables businesses to save time and money by streamlining their content marketing processes. It provides users with everything they need to produce high-quality content more efficiently. In addition, the platform helps businesses to better measure the performance of their content and make data-driven decisions about where to allocate their resources.
Top Features/Benefit.
Editorial Calendar: Gives users a bird's eye view of all content marketing activities and helps to plan and coordinate the production of content.
Built-in content editor: Allows businesses to create and edit content directly within the platform.
Social media integration: Helps businesses to publish and promote their content on social media.
Customizable Workflows: Allows businesses to create content marketing processes that fit their unique needs.
Brand Strategy: Helps businesses align their content marketing strategies with their overall business goals.
Pricing/Plans:
Contact for a quote.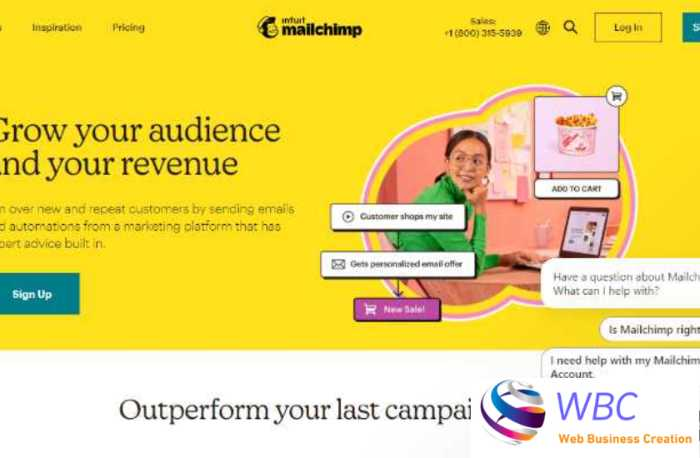 Highlight/Overview:
Content marketing is never complete without email marketing. Emails are a fundamental way to reach your target market, and MailChimp is one of the most popular (and easy to use) platforms out there. This tool allows you to create beautiful email newsletters, and other automated emails, and track your results.
It also provides powerful list-building and segmentation features to help you target your audience more effectively.
You can also use MailChimp to segment your subscribers and target them with specific content that is relevant to their interests.
Apart from emails, MailChimp provides other tools to help you with your marketing efforts. These include content studio, popups, and forms.
Top Features/Benefits.
Automated email campaigns: You can send automated emails based on subscriber activity, product usage, or other data.
Segmentation: You can segment your subscribers into different groups to target them with more relevant content.
Email template builder: Choose from over 100+ professionally-designed email templates and customize to your need.
Insight and Analytics : Track your email campaigns and get detailed reports on performance.P
Pricing:
MailChimp charges based on the number of subscribers you have. Visit the website for more information.
Best for: Businesses of all sizes looking for an affordable, reliable email marketing solution.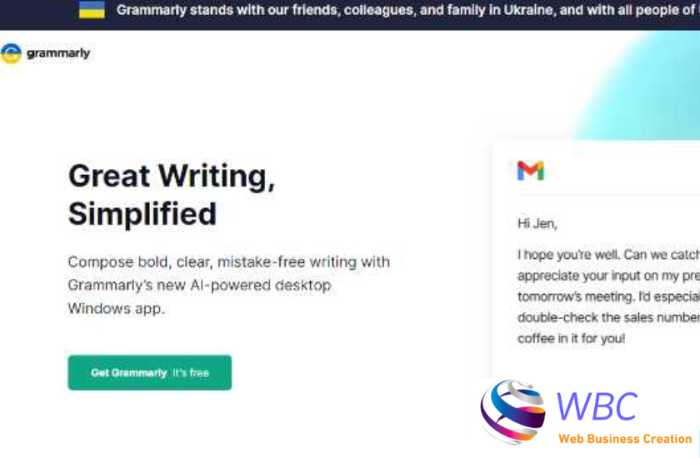 Highlight/Overview:
Even if you consider yourself a master of grammar, there will always be tiny errors that can slip through the cracks. How about a tool that can help you fix those errors in real-time, as you write? Grammarly is just such a tool – and it's available for free!
Grammarly is the world's leading AI-powered writing assistant. It analyzes your text for grammar, spelling, and punctuation errors with unmatched accuracy. In addition to grammar checking, Grammarly also offers style suggestions to help you with things like improving sentence structure, using more natural language, and avoiding clichés.
Grammarly's grammar checker is trusted by millions of users worldwide, including students, professionals, and people who just want to write better.
Top features/Benefits
Grammar checking: Checks for more than 400 types of spelling, grammar, and punctuation mistakes.
Style suggestions: Provides tips to improve clarity, conciseness, and vocabulary.
Integrations: Works with Microsoft Word, Outlook, and your favorite browsers (Chrome, Safari, Firefox) to make sure your writing is mistake-free everywhere you type.
Plagiarism detection: Compares your document to billions of web pages and millions of documents to make sure your work is original.
Analytics: Grammarly provides you with in-depth feedback on your writing.
Pricing/plans: Grammarly offers three different plans: Free, Premium, and Business. Visit the website to see accurate cost for your plan.
Best for: Students, professionals, and anyone who wants to improve their writing.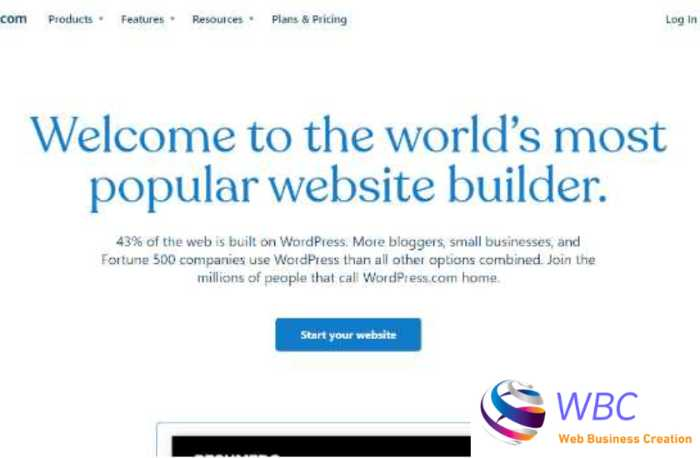 Highlight/Overview:
WordPress is a content management system (CMS) that enables you to create a website or blog from scratch. It currently powers over 32% of all websites on the internet, and is used by businesses of all sizes, including many of the world's largest organizations.
There are two versions of WordPress: WordPress.com and WordPress.org. WordPress.com is a hosted platform, which means that you don't need to install or set up anything on your own server. WordPress.org is a self-hosted platform, which means you'll need to install it on your own web server.
WordPress is popular among users because it can be used to create a professional-looking website without having to learn coding languages. All you need is a domain name and hosting, and you can install WordPress with a few clicks.
Indeed, mastering wordpress is one of the most important skills for anyone looking to start a career in web design. If you want to learn more about becoming a web designer, we recommend reading our comprehensive guide on How To Become a Web Designer Without a Degre
Top Features/Benefits
Powerful website builder: From simple blogs to a complex eCommerce site, WordPress can be used to create any type of website.
Flexible and extendable: With thousands of themes and plugins available, you can customize your site to look and function the way you want.
Ease of Use: WordPress is easy to use, even for beginners. You can create a site in minutes without any prior experience.
Large Community: WordPress has a large community of users and developers who are always willing to help.
Search Engine Friendly: WordPress is designed to be search engine friendly, so your site will rank higher in search results.
Regular Updates: WordPress is regularly updated with new features and security fixes.
Pricing
WordPress is free to install and use. However, you will need to purchase a domain name and web hosting in order to set up your website.
Best for: Bloggers, small businesses, and anyone who wants an easy to use and flexible website.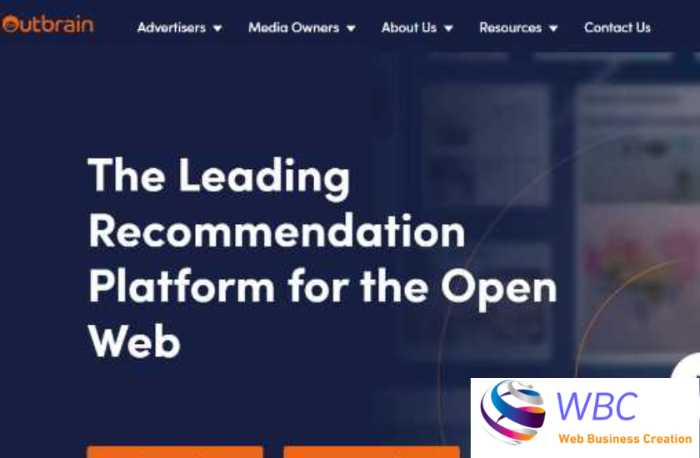 Highlight/Overview:
Outbrain is a recommendation platform that helps connect readers with interesting content from around the web.
Headquartered in New York City, Outbrain is one of the largest content discovery platforms on the web, powering recommendations for brands and publishers like CNN, The Guardian, Marie Claire, and many more.
Outbrain's technology uses data and machine learning to surface the most relevant content for each individual reader. This personalized content is then served up through a network of over 500,000 sites and apps, reaching over 1 billion people every month.
Top Features/Benefits
Native Ad Server: A self-serve platform that makes it easy to create and manage native ad campaigns at scale.
Recommendation Widgets: customizable tools that you can embed on your site or app to boost traffic and engagement.
Engage Dashboard: A one-stop shop for managing your campaigns, analyzing performance data, and optimizing your content strategy.
Security and Fraud Protection: Outbrain is committed to maintaining a safe and fraud-free ecosystem for both publishers and advertisers.
Pricing: Outbrain charges on a cost-per-click basis, so you only pay when someone clicks on your content.
Best for: Brands looking to increase their visibility and reach new audiences.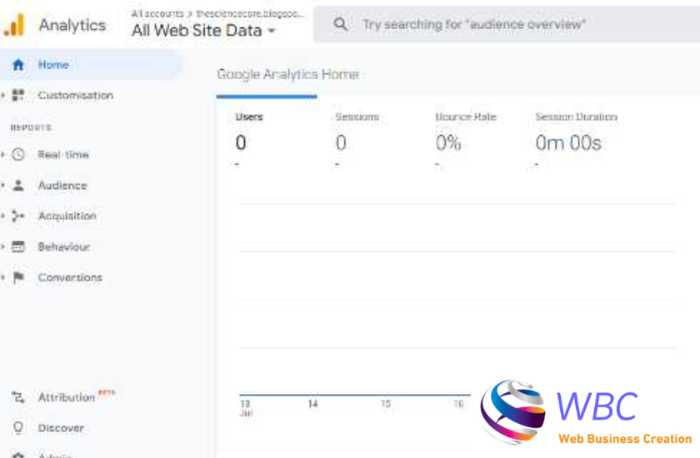 Highlight/Overview:
Google Analytics is a free web analytics service that helps website owners and online marketers understand how visitors interact with their site. It provides valuable insights that can be used to improve website performance and visitors experience.
Google Analytics can be used to track both on-site and off-site behavior, making it a valuable tool for understanding the customer journey. It can also be used to track conversions and goal funnels, allowing website owners to see which marketing campaigns are driving results.
And best of all, Google Analytics is completely free to use.
Top Features/Benefits by category
Performance Tracking: Track website speed, page load times, and other performance metrics to identify areas for improvement.
Visitor Behavior: See how users interact with your website, what pages they visit, and how long they spend on each page.
Monitor Conversion Rates: Track conversion rates and goal funnels to see which marketing campaigns are driving results.
Improve Website Usability: Use heatmaps and session recordings to see how users interact with your website.
Data collection: Collect data about your website visitors, including their location, device, and browser.
Analysis and Reporting: Get insights into your website's performance with customizable reports.
Pricing/Plans: Free
Best for: Website owners and marketing teams looking to gain an accurate insight into their website's traffic and conversion rates.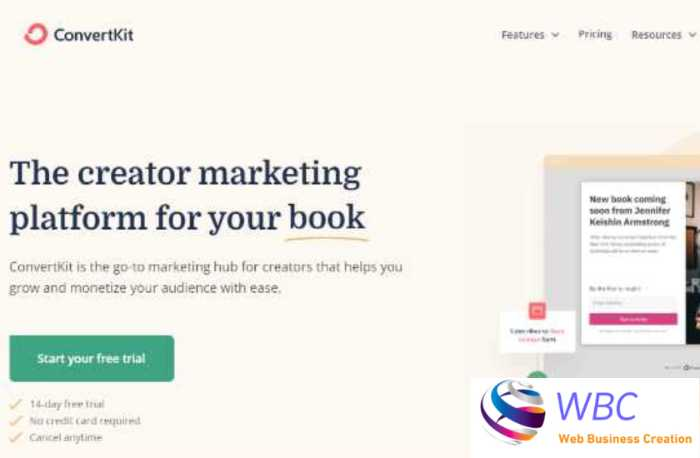 Highlight/Overview:
ConvertKit is an email marketing service designed for professional bloggers and online creators. With ConvertKit, you can easily create and manage your email list, segment your subscribers, and automate your email marketing campaigns. Plus, ConvertKit makes it easy to connect with your audience through powerful email automation tools like customizable opt-in forms, landing pages, and email courses.
If you're serious about growing your online business, ConvertKit is an essential tool for helping you build your email list and stay connected with your audience.
Top Features/Benefit
Email Designer: Creates beautiful, mobile-responsive email designs
Customizable forms and landing pages: Helps you capture more leads and convert more subscribers
Email List Management: Organize your subscribers into customizable segments
Powerful email automation: Save time with email courses, automated welcome series, and more
Visual automation builder: Easily create complex workflows without any coding
Integrations: Seamlessly connect ConvertKit with your favorite tools
Pricing/Plans: ConvertKit charges based on the number of subscribers you have.
Best for: Bloggers, YouTubers, and other content creators looking to build an audience and get more subscribers.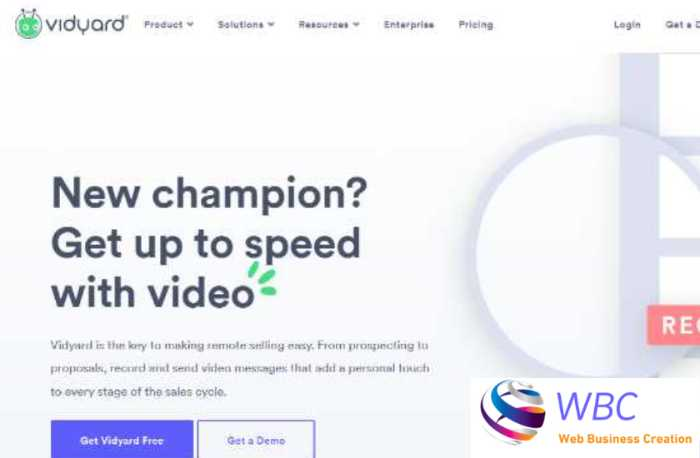 Highlight/Overview:
Vidyard is a video hosting and analytics platform that helps businesses drive more leads, close more deals, and improve their overall marketing effectiveness. The Vidyard platform provides enterprises with the tools they need to easily create, host, manage, and measure the performance of their video content.
Top Features/Benefit
Video Creation: Record, upload, or embed videos in seconds.
Video management: Customize video playback, protect your content, and track engagement.
Video Sharing and Delivery: Share video content across all channels and devices.
Video Hosting : Stream HD video without buffering, wherever your audience is watching.
Video Analytics: Monitor who's watching your videos and how they're engaging.
Pricing/Plans
Free
Pro: $29/mon
Business: Contact for a quote.
Best for:
Businesses of all sizes that need to create, host, manage, and measure the performance of their video content.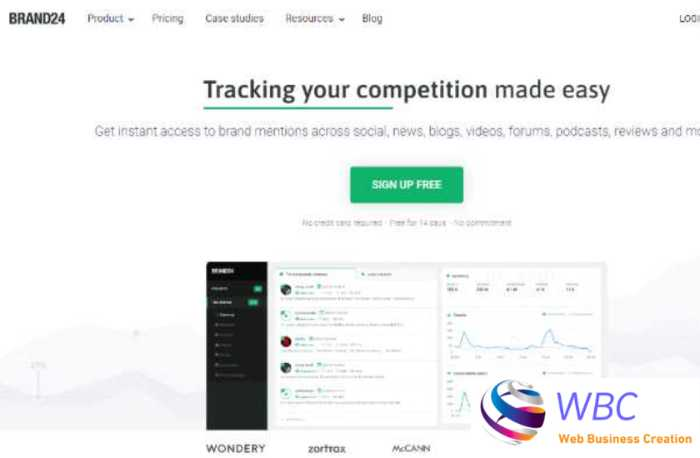 Highlight/Overview.
Brand24 is a social media monitoring tool that enables users to track online conversations and mentions of their brand, product or keyword. It provides users with real-time data and insights into what people are saying about their brand online, as well as historical data and trend analysis. Brand24 also offers a range of features to help users engage with their audience, including social media listening, sentiment analysis, competitor analysis and influencer identification.
Top Features/Benefit
Mention Feed: Track all online conversations and mentions of your brand in real-time.
Sentiment analysis: Understand how people feel about your brand with automatic sentiment analysis.
Filtering: Filter mentions by keyword, language, source, location and more.
Data Exporting: Export your mentions to Excel, CSV or PDF for further analysis.
Alerts: Receive daily, weekly or monthly alerts about your brand mentions.
Marketing Analytics: Get actionable insights from your mentions with marketing reports.
Pricing/Plans:
Free Trial
Individual: $49
Team: $99
Pro: $149
Enterprise: $249
Best for: Brands and businesses that want to track their online reputation and improve their customer service.
The Bottom Line
Content marketing is a must for any business that wants to succeed online. They are the core of inbound marketing, which is the most effective way to attract, engage, and convert customers in the digital age. We suggest reading 3 Ways To Improve The Content Team Workflow to learn more.
And while there are many tools and platforms out there that can help you with your content marketing efforts, the ones listed above are some of the most essential. Each one serves a specific purpose and can help you take your content marketing to the next level.
By utilizing the right tools and platforms, you can create and distribute high-quality content that will help you reach your target audience and achieve your business goals.
FAQs
What is content marketing?
Content marketing is a type of marketing that focuses on creating and distributing valuable, relevant, and consistent content to attract and retain a clearly defined audience — and, ultimately, to drive profitable customer action.
Which platform is best for content marketing?
The best platform for content marketing is the one that allows you to reach your target audience most effectively. However, some popular platforms for content marketing include Hubspot, WordPress, Yoast, SEMrush, Marketo, Google Analytics, Mailchimp etc.
What are content platforms?
A content platform is a software application or set of tools that helps you create, manage, and publish your content. Content platforms typically provide features such as a content management system (CMS), editorial calendar, workflow management, and analytics.