Are you a freelancer, artist, photographer, web designer, or small business owner? You need a portfolio website if you answered yes to any of those questions.
As the world becomes increasingly digital, having an online portfolio is essential. It allows you to showcase your work to potential clients and employers without inviting them to your physical location. A portfolio website is an excellent opportunity to showcase your work, build your brand, and attract new clients or customers.
This guide will show you everything you need about portfolio websites: setting up your domain and choosing the right platform to add your content and promote your site. We'll also showcase some great examples of portfolios that will give you some inspiration.
Let's get started!
What's a portfolio website?
A portfolio website is an online platform where individuals or businesses can showcase their work, skills, and accomplishments. It typically includes a gallery of images or videos and information about the creator's experience and contact details.
Sometimes, a portfolio site may include a blog section or testimonials from past clients.
It should be noted that a website portfolio is not the same thing as a resume or CV. A resume is a document listing your work experience and skills in chronological order. A curriculum vitae(CV) is similar to a resume but is usually longer and more detailed.
On the other hand, a portfolio website is a way to showcase your work more visually and engagingly. Unlike a CV or a resume, a portfolio site isn't a mere static document file. It's an interactive website that gives visitors a glimpse into your professional life and work. Creating an online portfolio allows creatives to control how their work is presented and reach a wider audience than traditional methods such as print portfolios or in-person meetings.
Why You Need a Portfolio Website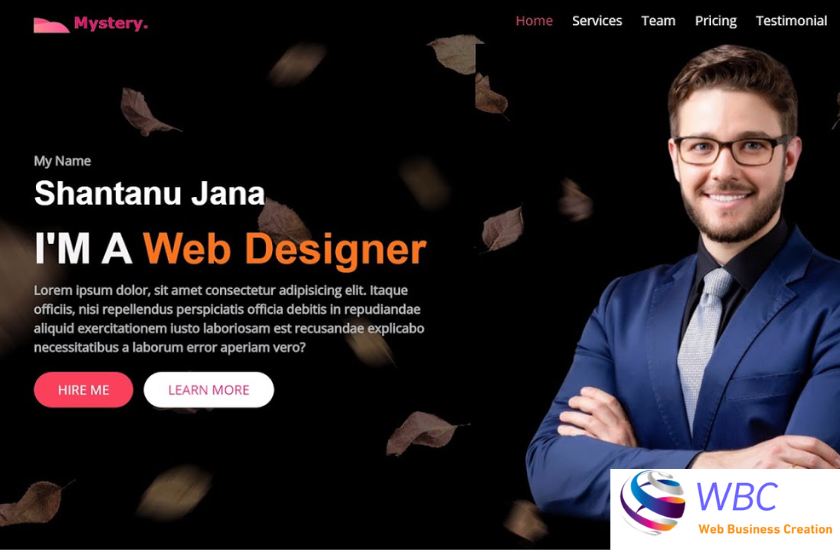 As noted earlier, the online market is becoming increasingly saturated. It's not enough to simply have an online presence – you need to stand out from the crowd if you want to attract attention and land clients.
One of the best ways to do this is by creating an online portfolio. From freelancers and consultants to small businesses and Fortune 500 companies, many people are using portfolio sites to showcase their work and attract new clients.
There are several reasons why you should create your online portfolio, even if you already have a traditional portfolio:
It's a beautiful way to show your work more interactively and engagingly.
It's easy to keep your portfolio up-to-date without printing and updating physical copies.
A portfolio website can help you attract new clients and opportunities.
Online portfolios are still a valuable tool for promoting your work and building your brand, even if you're not currently looking for new clients or projects. By having a central place where people can see all of your work in one place, they can share your work with others spreading the word about what you do.
Types Of Portfolio Websites
Personal Portfolio Website:
A personal portfolio website is a site that contains a collection of your work, whether it be writing samples, photos, or videos. It is typically used to showcase your skills and accomplishments and provide contact information so a potential client can get in touch with you.
For example, if you are a freelance writer, it's could feature writing samples, a biography, and contact information.
Creative Portfolio Website: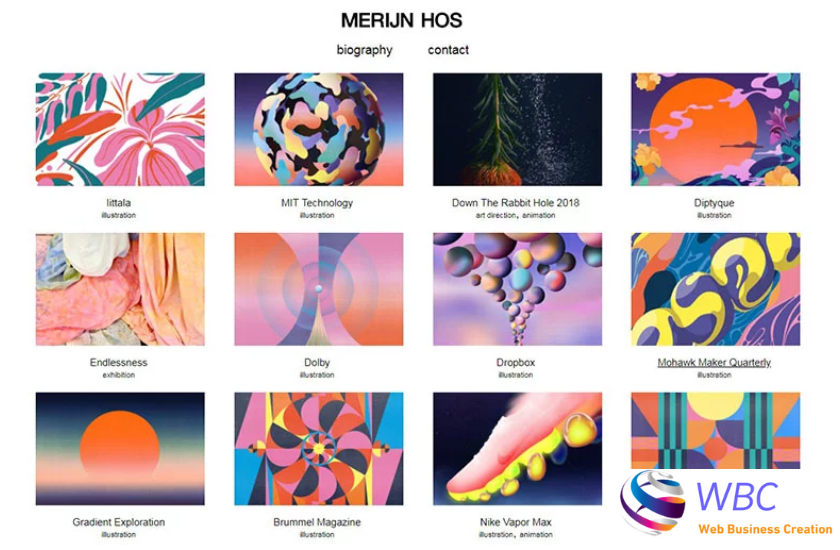 A creative portfolio website is geared towards those in creative fields. This could include designers, photographers, and other creatives. In addition, you can use a creative portfolio website to sell your artwork.
Business Portfolio Website: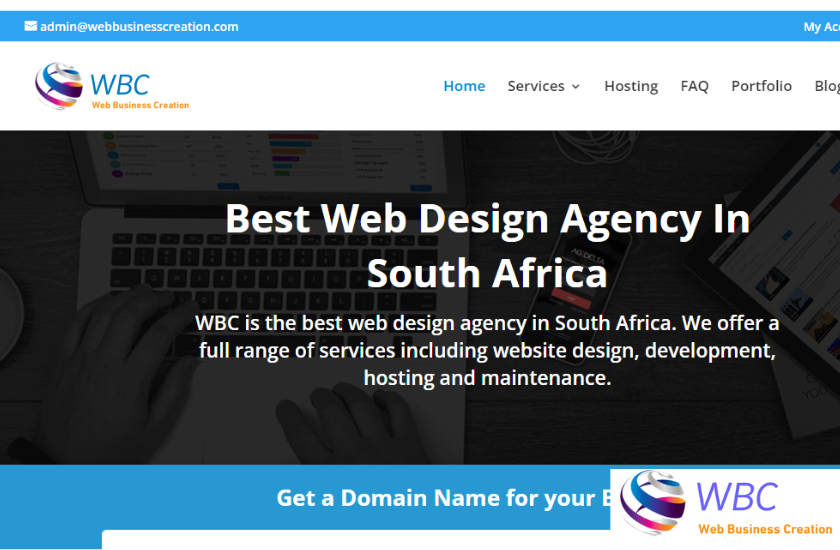 A business portfolio website is a site that is created for the sole purpose of promoting and selling products or services. It's often used by small businesses or freelancers who want to showcase their work and attract new clients.
A business portfolio website typically includes an about page, a portfolio of products or services, and a contact page.
Now that you know the different portfolio website types let's look at how you can create your own.
Essential Sections for Your Portfolio Website
Like any other website, a portfolio website must have certain elements to be effective. These elements will vary depending on the purpose of the site.
For example, a personal portfolio website will differ from a business one. Likewise, a photographer's portfolio website will differ from a web designer's. However, before creating your portfolio website, you should first determine the site's purpose. You can ask yourself the following questions:
What do I want to achieve with my portfolio website?
What type of audience am I targeting?
Do I want to sell my products and services?
Do I want to attract potential employers?
Do I want to build my personal brand?
Once you clearly understand your portfolio website's purpose, you can start planning your site's design and content.
Some typical sections of a portfolio website include the following:
A Homepage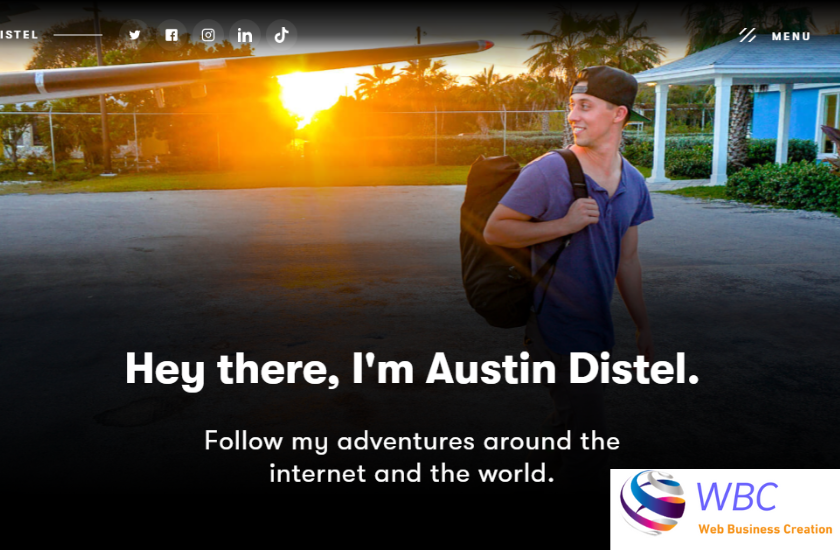 Your homepage is the doorway to your website, and as such, it should be designed to capture the visitor's attention immediately. You want to make an excellent first impression and give them a reason to stay on your site and explore further.
The layout should be simple, with the most important information "above the fold" (visible without scrolling).
For example, if you're a freelance writer, you might start with a headline that says, "Need a freelance writer? I'm your girl!" followed by a brief overview of your services, testimonials from past clients, and some samples of your work.
If you're a business owner, on the other hand, you might want to highlight your company's history, awards, and accolades and list the products or services you offer.
For designers and other visual artists, your homepage might feature a large hero image or video, with your work displayed in an attractive grid below.
Put some thought into your site's colors, fonts, and overall branding. Remember, your portfolio is an extension of your brand, so it should reflect your unique personality and style.
An About Page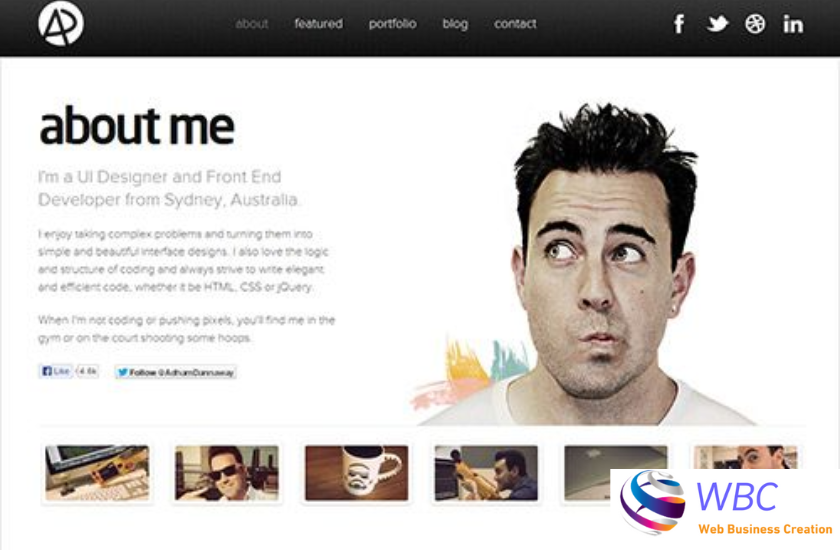 This is where you'll tell your story, explain your services, and give potential clients a sense of your qualities as a person and a professional.
Many people make the mistake of thinking an About Page is where you relate your life experience or give a wiki-style rundown of your qualifications. But that isn't the purpose of an About Page.
Your About Page should give potential clients the information they need to decide if they want to work with you.
Keep it focused on them, not on you. Talk about what you can do for them and how your experience will benefit them.
Among other things, your About Page should include these important elements:
Your Personal or Brand Name: Make it easy for people to find you online by including your name or your business' name on your About Page. A simple heading that says "About [Your Name]" or "[Your Business Name]" will do the trick.
A Photo or Headshot: Including a photo of yourself on your About Page is always a good idea. If you're representing a business, you can include a logo instead. Make sure the photo is high-quality and professional looking.
A Brief Description: Also known as an elevator pitch, this is where you give people a quick overview of who you are, what you do, and why you're great at it. This is your chance to make a first impression, so make sure the language is clear and easy to understand.
You can also share a little about your background and what led you to your current profession. Include links to your work, social media accounts, and anything else that's relevant.
If you have a degree in a relevant field, be sure to mention it. You can also include any relevant certifications or professional experience you have. If you don't have much professional experience, you can focus on the personal qualities that make you a good fit for the work.
Case Studies.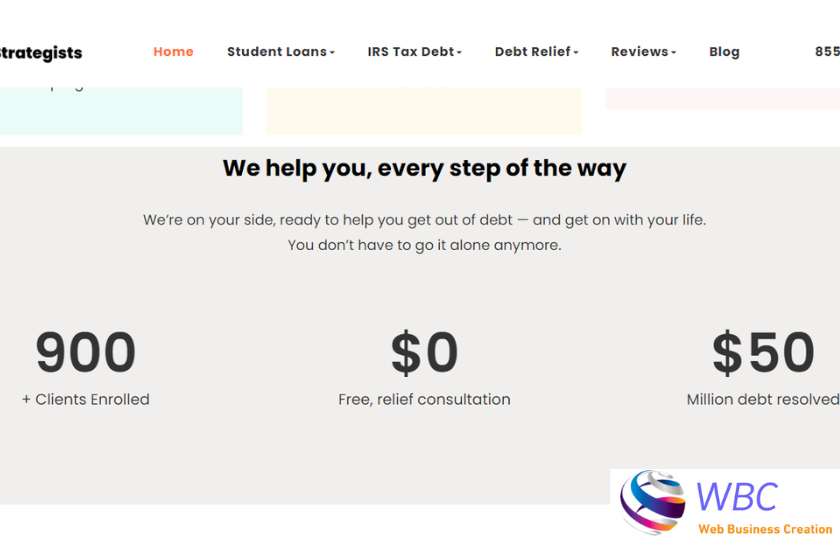 A case study is a marketing approach that provides an in-depth look at a specific project or client a company has worked with. They usually feature before and after photos, customer quotes, and statistics showcasing the project's process and results.
For a portfolio website, case studies provide potential clients with a detailed look at your work and how you approach problem-solving. They also help to build trust and credibility by showing that you have successfully tackled similar challenges in the past. As such, including one or two well-written case studies on your portfolio website can be an effective way to win new clients and grow your business.
Samples/Gallery.
If you're a visual artist, graphic designer, photographer, or other creative professionals, your portfolio website will likely feature a gallery of samples from your past work. This is an excellent way to showcase the range and quality of your talents and give potential clients a preview of what you can do.
Choose your best work when selecting which pieces to include in your portfolio gallery. This isn't the time to be modest – you want to wow your viewers and leave them eager to see more.
As a general rule of thumb, it's better to have a smaller selection of outstanding pieces than a larger selection of average ones.
Testimonials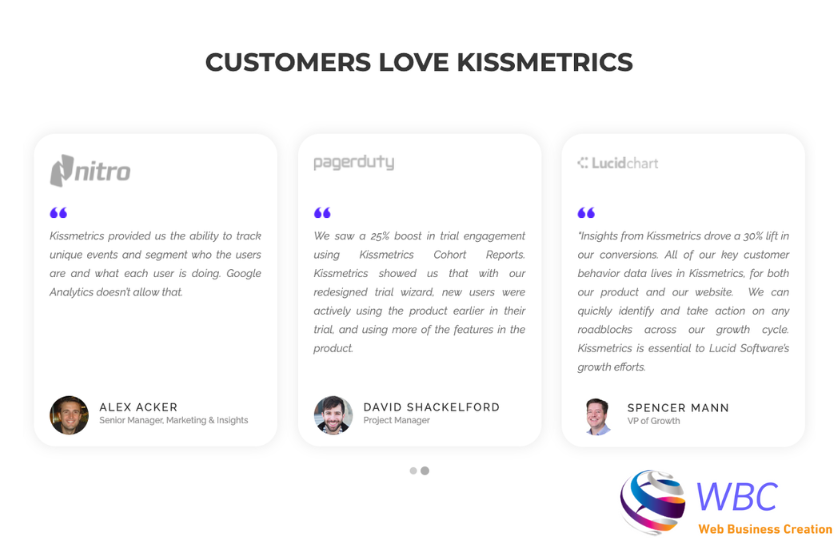 Testimonials provide third-party validation that can be incredibly persuasive for those considering working with you. They can also help to build trust with potential clients by providing an unbiased view of your abilities.
If you have any particularly glowing testimonials, consider featuring them prominently on your portfolio website. You could even create a dedicated page for testimonials if you have enough of them.
Bear in mind, however, that testimonials are most effective if they're from people who are credible and relevant to your target audience.
So each time you complete a project, ask your client for a testimonial. If they're happy with your work, they should have no problem providing one.
A Call to Action (CTA)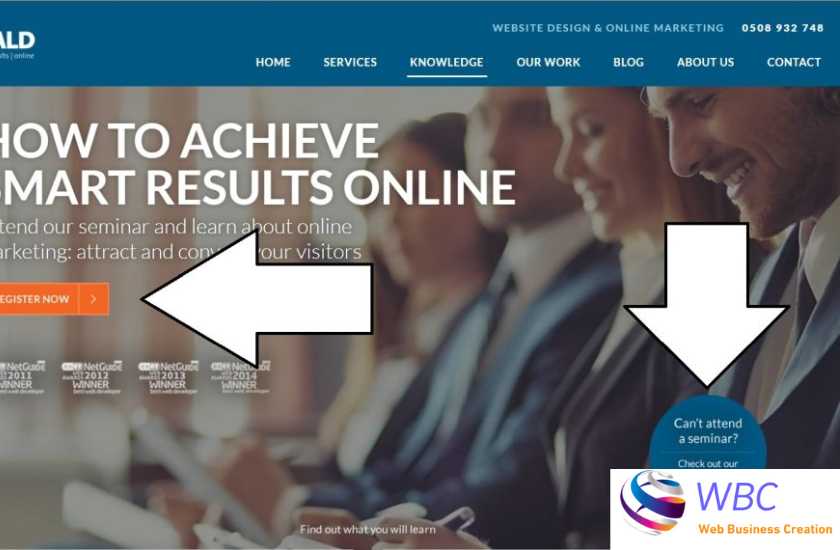 Every portfolio website needs a call to action (CTA). This is simply a statement or button that encourages visitors to take some desired action. For example, your CTA could be something like:
"Hire me for your next project."
"Download my free e-book."
"Sign up for my newsletter."
Your CTA will be different depending on your goals for your website. But regardless of what it is, make sure it's clear and easy for your site visitors to find and understand.
The best position for your CTA is usually near the top of your homepage, above the fold. This ensures visitors see it as soon as they land on your site. However, you may want to place it elsewhere on your site, such as in the sidebar or at the bottom of a blog post.
Once you've decided on the placement of your CTA, it's time to start working on its design. Remember that your CTA should stand out from the rest of your site's content. Use a contrasting color or font size to make it pop.
Your CTA should also be short and to the point. Include only the most relevant information, such as what you're offering and why visitors should take action.
Finally, make sure your CTA is clickable. Include a call to action verb, such as "learn more," "sign up now," or "download." And be sure to link to the appropriate landing page.
A Blog/FAQ Section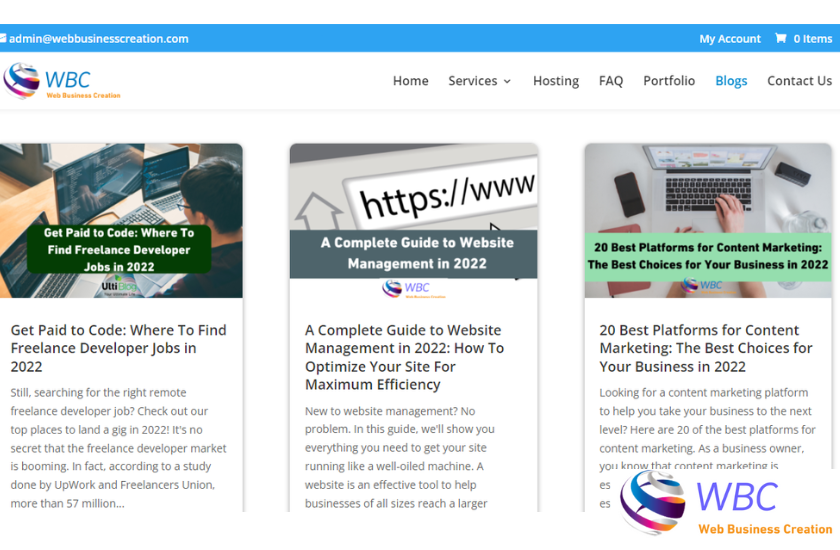 You should include a blog if you're using your portfolio website for business. This helps show off your industry knowledge and build trust with potential clients. Not to mention, it can help you rank higher in search engines.
Let's take a web design portfolio, for example. You could write blog posts about the latest web design trends, tips for choosing the right colors and fonts, or how to redesign your website.
If you're unsure what to write about, think about the questions your clients or potential clients are always asking you. Chances are, other people are wondering the same thing. Then, research and write a helpful blog post that provides answers.
To make sure your blog post is optimized for search engines, be sure to include keywords that are related to your topic. For example, if you're writing about web design trends, you might use keywords like "web design," "web development," "responsive design," etc.
Don't forget to promote your blog post! Share it on social media, send an email to your list, or even mention it in your following newsletter.
No matter what you write about, make sure your blog posts are well-written and informative. No one wants to read a poorly written post full of typos. Take the time to proofread your work before you hit publish.
If you're not a great writer, that's okay! You can hire a freelance writer to help you with your blog. Ensure you give them clear guidance on what you want the post to be about.
A Contact Page: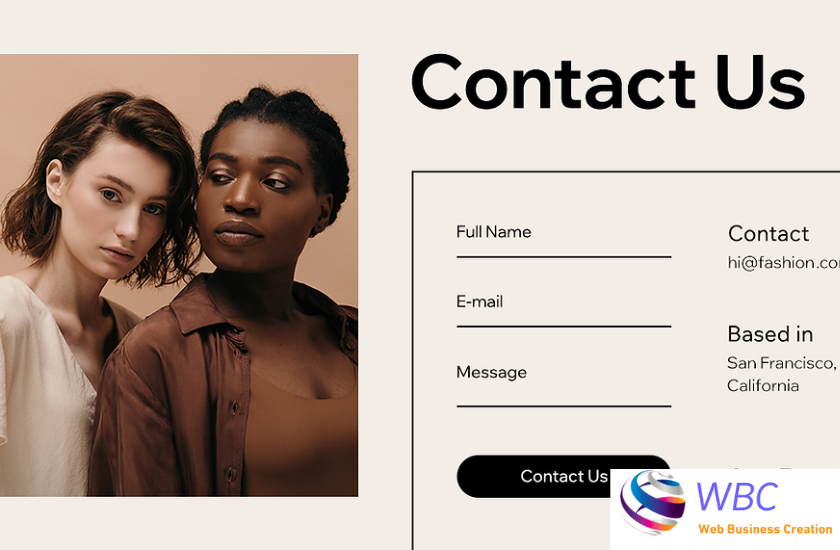 This is pretty self-explanatory. Include a way for people to contact you, whether it's an email address, a contact form, or even just your social media information.
Make sure your contact page is prominent and easy to find. You don't want potential customers struggling to get in touch with you.
A Privacy Policy: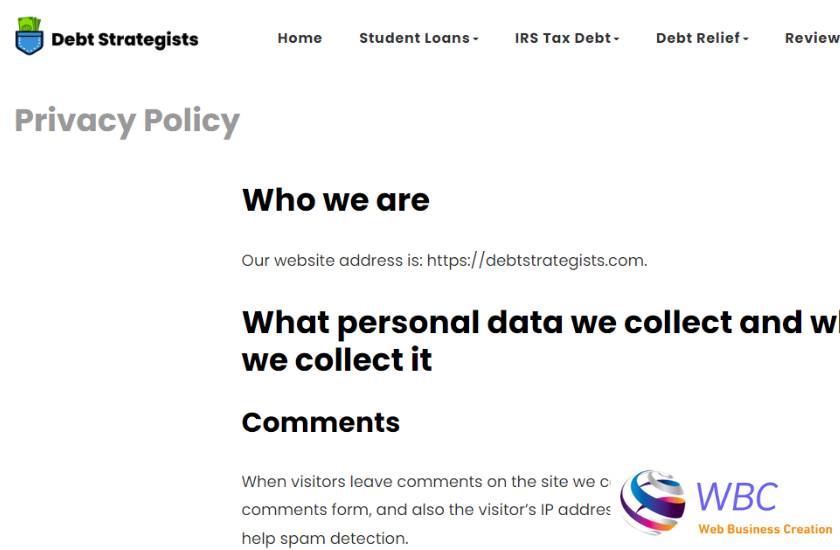 You must have a privacy policy if you're collecting data from your users (even just an email address). This legal requirement in many countries is just good business practice.
Your privacy policy should explain what data you're collecting, why you're collecting it, and how you plan to use it. It should also explain what rights your users have over their data.
Make sure your privacy policy is easy to find and understand. The last thing you want is for potential customers to click away because they can't figure out how you're using their data.
Extra Things to Include
Your portfolio website doesn't have to be limited to the basics. If you have the time and opportunity, consider adding extra features to make your site more fun, interactive, and informative. Here are a few ideas:
Interviews with people in your field
Advice columns
Behind the scenes looks at your process
Guest posts from other creatives
Infographics
EBooks
Webinars
Podcasts
Free resources, like templates or tutorials.
The important thing is to make sure that whatever you include on your site is high-quality and relevant to your target audience. You'll stand out from the competition if you put in the extra effort.
What You Need to Build a Perfect Portfolio Website
Your portfolio website is your online home, where prospective clients, collaborators, and fans can learn more about you and your work. As such, it's essential to put some care into crafting a site that's effective, attractive, and easy to maintain.
You'll need to select the right platform and tools for the job to achieve these goals. Below, we've outlined everything you need to get started.
A Domain Name and Web Hosting
Before you can build your portfolio website, you'll need to purchase a domain name (i.e. yourwebsite.com) and web hosting.
Your domain name is your site's address on the internet, while web hosting is the physical space that stores your website's files.
For a portfolio website, your domain name should be simple, easy to remember and reflect your brand or personal name. For example, if you're a photographer, you might want to use your name as your domain (e.g., johnsmithphotography.com). Alternatively, you could use a more general name related to your field (e.g., incrediblelandscapes.com).
As for web hosting, you'll want to choose a reliable provider that offers fast loading speeds and good uptime (i.e., the percentage of time your website is online and accessible).
Some popular web hosting providers include Bluehost, WP Engine, and DreamHost.
A Content Management System (CMS)
Once your domain name and web hosting are set up, it's time to install a content management system (CMS). A CMS software application allows you to create, edit, and publish content on your website.
WordPress is the most popular CMS in the world, powering over 30% of all websites. Other popular CMS options include Drupal, Joomla, and Squarespace.
Installing a CMS on your website is generally a pretty simple process. Most web hosting providers offer one-click installations of popular CMS applications.
In addition to WordPress, many content marketing platforms offer tools to help you plan, publish, optimize, and measure your content. Check out our 20 best content marketing platforms to find the right one for your business.
A Theme
A theme is a pre-designed website template you can install on your CMS to give your website a specific look and feel. WordPress has thousands of free and paid themes available, while other CMS options typically have fewer theme options.
When choosing a theme, you should ensure it is responsive, meaning it will look good on desktop and mobile devices. You should also consider the overall design and make sure it fits with the type of website you want to create. You can find themes for WordPress and other CMSs on sites like ThemeForest and Envato.
If you want more control over the design of your website, you can create a custom theme or use a website builder plugin like Elementor.
Once you've selected a theme, you can begin customizing it to match your website's branding and style. This includes adding your logo, changing the colors, and adding your content.
If you're not a web developer or designer, there's no need to worry. Most WordPress themes are user-friendly and can be easily customized without coding. However, if you want to add more advanced features or make custom changes, you may need to hire a developer.
Install Plugins
WordPress plugins are like apps for your website. They can add new features like contact forms, social media integration, and e-commerce. There are over 54,000 plugins available for free from the WordPress plugin directory.
To install a plugin, simply search for it within the WordPress backend. Once you've found a plugin, you'd like to install, click "Install" and then "Activate."
Most plugins are free, but some premium plugins may require a one-time payment or subscription.
Before you install any plugins, be sure to read the reviews and check for compatibility with your theme and other installed plugins. Also, initiate a backup of your site before installing any new plugins.
Above all these, a portfolio website, like any other website, needs proper maintenance in content, design, and technical aspects. To know more about website maintenance, you can check out our blog post on A Complete Guide to Website Management in 2022: How To Optimize Your Site For Maximum Efficiency.
Conclusion
Whether a freelance designer, artist, or writer, a portfolio website is valuable in your toolkit. By showcasing your work and skills online, you'll not only market yourself to potential clients and employers, but you'll also have a space to experiment with your creativity and build an audience for your work.
Always remember that your portfolio website reflects you and your brand. Take the time to make it unique, professional, and engaging, and you'll be well on building a successful online presence.
FAQs
What's a Portfolio Website?
A portfolio website is a personal or business website that functions as an online portfolio. Typically, portfolio websites showcase your work, skills, and accomplishments. It's a powerful marketing strategy that can help you land new clients and jobs, and it's also a great way to build an online following for your work.
Why is a portfolio website essential?
An online portfolio is essential because it allows you to showcase your work to a wider audience, and potential employers or clients can view it anytime. A portfolio website is a great way to build your personal brand and stand out from the crowd.
What should I name my portfolio website?
Your portfolio website should be named after your name or your business name. For example, if your name is John Smith, your website could be called "JohnSmith.com" or "SmithPortfolio.com. Businesses can use their company name as the domain name.